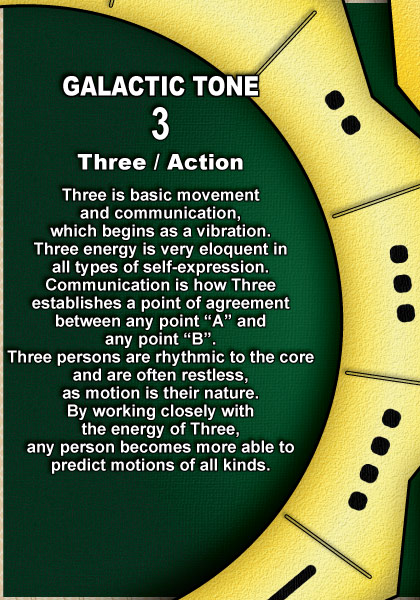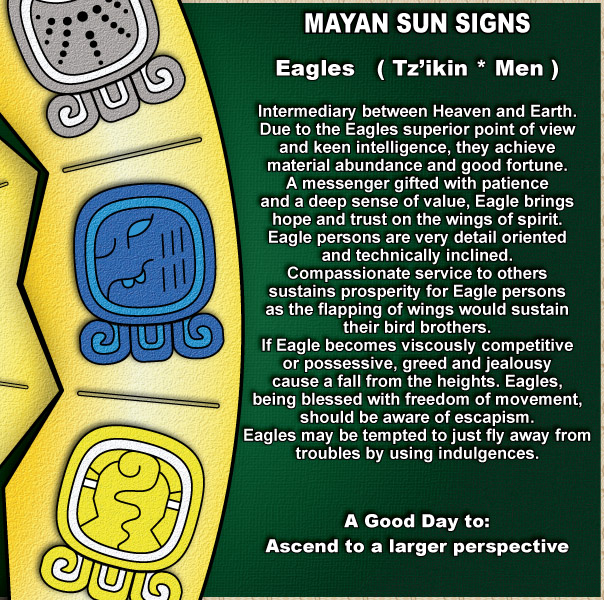 Tone: 3 - Action, Sun Sign: EAGLE (TZ'IKIN*MEN)

(1st Night of Universal cycle)
(http://www.mayanmajix.com/TZOLKIN/DT/DT.html)
-----------------------------------------------------
The Number 3
relates to the three worlds of the Mayan cosmovision – Heaven, Earth, and the Underworld. It also symbolizes the three original hearth stones laid down by the Creator Gods. (In traditional Mayan homes, three stones can still be found on wooden stoves to hold the
comal
or tortilla griddle.) But 3 can be a difficult number nevertheless. Carl Jung, objecting to the notion of a Trinity, said that the number 3 is incomplete. The Maya would agree. This is a difficult number, and implies doubt, risk, uncertainty. Many traditional Daykeepers avoid initiating new projects on a 3 day.
MEN (TZ'IKIN) THE VISION OF THE BIRD:
Signifies a bird, wealth, and all business negotiations. It is the
nawal
of economic well-being, good fortune. It is an auspicious day to give thanks and ask for financial well-being. It is the communication and mediation between Uk'ux Kaj and Uk'ux Ulew (Heart of Sky, Heart of Earth). Unlike those of some spiritual traditions, the Maya do not feel that material prosperity is undesirable or "non-spiritual." Upon this day, we may thank the universe for whatever prosperity we currently enjoy while honestly expressing the intention that more prosperity may attend our lives. This day is as fortunate for love as it is for money; pay attention to relationship issues. Pay attention to dreams as well, for this is a day upon which one may experience powerful and important revelations through dreams.
(http://www.jaguarwisdom.org/blog/)
-----------------------------------------------------
Tzolkin:
3 Tz'ikin
Long Count:
12.19.18.4.15
Tz'ikin symbolizes the day when the birds showed the place where the sacred Corn was found. This is the day of the bird of good luck. Date of communication with the heart of Heaven and the Heart of Earth, through the invocation of space, air, light, clouds, cold, and the heat force that gives us life. Representation of all that exists in space. Day devoted to Heart of Heaven, Heart of the Earth. Symbol of good luck and material stability of the individual conscience and intelligence.
(http://mayancalendar2012.org/)
-----------------------------------------------------
(http://www.maya-portal.net/tzolkin)
--------------------------------------------------
(http://www.oursacreduniverse.co.za/mayan.html)
-----------------------------------------------------
(http://xzone.com.au/maya/personality.php?YEAR=2011&MONTH=4&DAY=6)
***********************************************
Webpages:
www.shiftoftheages.com ~ http://en.esoguru.com/Don_Alejandro ~
http://www.youtube.com/watch?v=o_MKHqVsAlQ ~
http://microapp.westword.com/mayan2012/ ~
http://www.sacredroad.org/staticpages/index.php/20040312155339101 ~
http://www.jaguarwisdom.org/blog/ ~ http://www.mayacalendar.org/mayan-horoscope.php ~
http://www.mayanmajix.com/TZOLKIN/DT/DT.html ~
http://mayanmajix.com/faq_2011_lab.html ~ www.xzone.com.au/maya ~
http://maya.calendariosagrado.org/beginner/?lang=en ~ www.Calleman.com ~
www.maya-portal.net ~ http://cholqij.proboards.com/index.cgi?board=mayancalendar ~
www.mayancalendar2012.org ~ www.createspace.com/3373251 ~
http://www.sabiduriamaya.org/home/index.asp# ~ http://www.4-ahau.com/en/Home.html ~
http://www.oursacreduniverse.co.za/mayan.html ~
http://www.widgetbox.com/widget/daily-tzolkin ~
***********************************************