(http://www.maya-portal.net/tzolkin)
----------------------------------------
(http://www.oursacreduniverse.co.za/mayan.html)
------------------------------------------------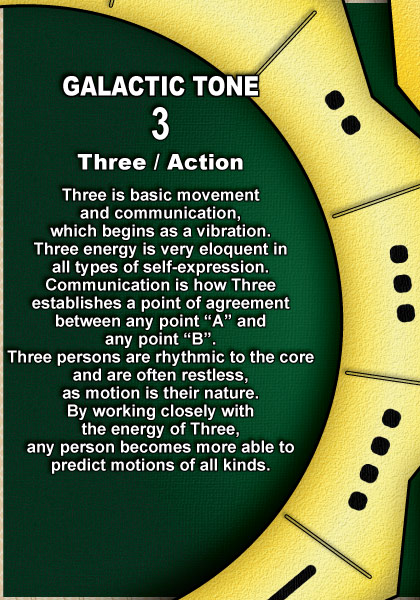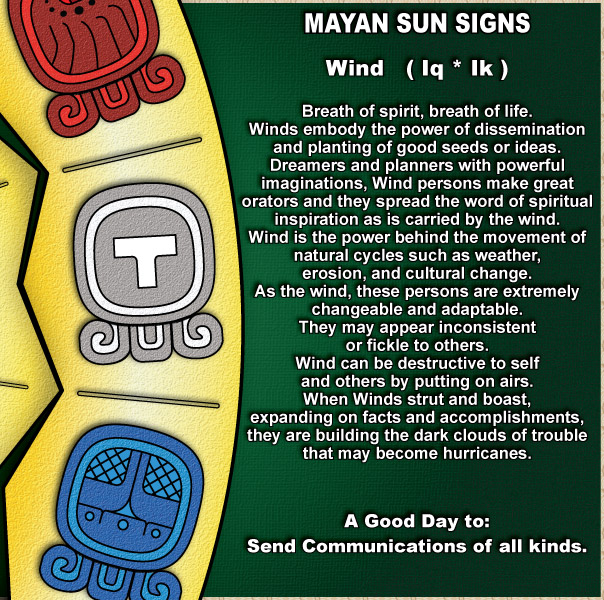 Tone: 3 - Action, Sun Sign: WIND (IQ*IK)

(1st Day of Universal cycle)
(http://www.mayanmajix.com/TZOLKIN/DT/DT.html)
-----------------------------------------------------
Tzolkin:
3 Iq'
Long Count:
12.19.18.4.2
Symbol of the commemoration of the completion of the world, made for all living beings and the completion of the heavens. It is a day of the Heart of Heaven, Heart of the Earth. It is one of the bearers of the years, the bearers of Time.

Iq' is the mystical, spiritual breath, viral principle, inspiration, ideas and actions. It is the essence of existence in all living beings. Iq is the day of the altars, the sacred breath of air that gives us strength and fullness of life.
(http://mayancalendar2012.org/)
-----------------------------------------------------
The Number 3
relates to the three worlds of the Mayan cosmovision – Heaven, Earth, and the Underworld. It also symbolizes the three original hearth stones laid down by the Creator Gods. (In traditional Mayan homes, three stones can still be found on wooden stoves to hold the
comal
or tortilla griddle.) But 3 can be a difficult number nevertheless. Carl Jung, objecting to the notion of a Trinity, said that the number 3 is incomplete. The Maya would agree. This is a difficult number, and implies doubt, risk, uncertainty. Many traditional Daykeepers avoid initiating new projects on a 3 day.
Ik (Iq') The Breath of Life: Signifies wind, moon, crisis. It is the nawal of the element of air and the moon, of the spirit of human existence. It is a day for the removal of negative energy and illnesses. It is the wind which sweeps clean our house and our body. It also signifies a hurricane, cleansing, purification, breath, and sexual obsession. Upon this day we ask for the strength, the vitality, and the commitment to carry on in our chosen work. This is a day for the removal of negative energy and illnesses; in terms of healing, it favors the resolution of psychological problems, especially those which arise from angry emotional states.
Among the K'iche' Maya of Momostenango, a special ceremony takes place on 13 Iq' (Ik). This day-sign is said to symbolize the icons (kab'awil) we keep upon our altars, which in Mayan communities are often special stones, crystals, and even ancient statues or figurines uncovered during the plowing of the fields. The divine wind of 13 Iq' sweeps our altars clean and purifies the kab'awil we keep there.
(http://www.jaguarwisdom.org/blog/)
-----------------------------------------------------
(http://xzone.com.au/maya/personality.php?YEAR=2011&MONTH=3&DAY=24)
***********************************************
Webpages:
www.shiftoftheages.com ~ http://en.esoguru.com/Don_Alejandro ~
http://www.youtube.com/watch?v=o_MKHqVsAlQ ~
http://microapp.westword.com/mayan2012/ ~
http://www.sacredroad.org/staticpages/index.php/20040312155339101 ~
http://www.jaguarwisdom.org/blog/ ~ http://www.mayacalendar.org/mayan-horoscope.php ~
http://www.mayanmajix.com/TZOLKIN/DT/DT.html ~
http://mayanmajix.com/faq_2011_lab.html ~ www.xzone.com.au/maya ~
http://maya.calendariosagrado.org/beginner/?lang=en ~ www.Calleman.com ~
www.maya-portal.net ~ http://cholqij.proboards.com/index.cgi?board=mayancalendar ~
www.mayancalendar2012.org ~ www.createspace.com/3373251 ~
http://www.sabiduriamaya.org/home/index.asp# ~ http://www.4-ahau.com/en/Home.html ~
http://www.oursacreduniverse.co.za/mayan.html ~
http://www.widgetbox.com/widget/daily-tzolkin ~
***********************************************