The number 7
may confuse some people, for it sometimes represents death, or at least "endings." The reason for this may not be readily apparent. In order to illustrate this, we may take a look at any
tzolk'in
diagram. Any day-sign sequence beginning with 1 will end in a 7. It will be like this: 1, 8, 2, 9, 3, 10, 4, 11, 5, 12, 6, 13, 7. This is why 7 is so often considered a symbol of endings. In the
Popol Vuh
, the Hero Twins are named 1 Hunahpu and 7 Hunahpu, while the most important Underworld Lords are named 1 Death and 7 Death. When 1 and 7 are paired together in such a fashion, it is as if we were saying: "The beginning and end of the Hero Twins archetype," or "The alpha and omega of the Death archetype." Rituals are seldom performed on 7 days.
Ahau (Ajpu) The Hunter:
Signifies a blowgun hunter, a leader, struggle, heroism, death and hunting. It is the
nawal
of the sun, the day to ask for wisdom, talent, and physical fortitude. It is the
nawal
/guardian and patron of flowers. It is the day of mental and psychological tests and challenges, for the winner of such tests and challenges (heroic like the mythic Hero Twins); prophet, fortune-teller, psychic, diviner, accuracy in divination and prophecy; may also signify an eclipse. The day of the grandparents who have departed.
(http://www.jaguarwisdom.org/blog/)
-----------------------------------------------------
Tzolkin:
7 Ajpu
Long Count:
12.19.18.3.0
Represents musicians, artists, observers, communicators and writers. Day created to provide a balance between good and evil, but following the teachings reveals that good always triumphs over evil. Good and evil have been left to journey over the blessed face of the Earth, measuring our deeds and attitudes. Know that we must always overcome evil with our good behaviours.
(http://mayancalendar2012.org/)
-----------------------------------------------------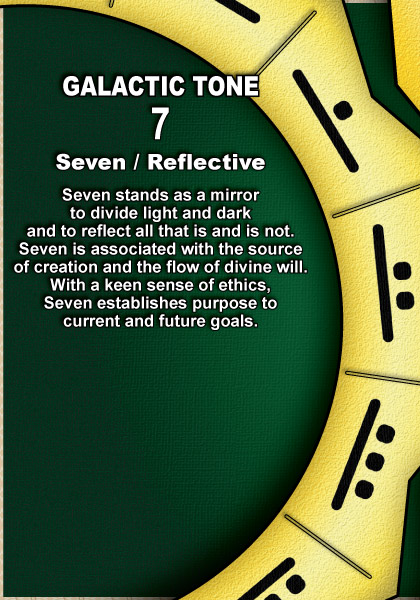 Tone: 7 - Reflection, Sun Sign: SUN (AJPUU*AHAU)

(7th Day of Galactic cycle)
(http://www.mayanmajix.com/TZOLKIN/DT/DT.html)
-----------------------------------------------------
(http://www.maya-portal.net/tzolkin)
-----------------------------------------------------
Main Maya glyphs
Tzolk'in
7
Ajaw
Ja'ab'
13
K'ayab'
Night Lord
G6
(http://maya.calendariosagrado.org/basic/?lang=en)
-----------------------------------------------------
***********************************************
Webpages:
www.shiftoftheages.com ~ http://en.esoguru.com/Don_Alejandro ~
http://www.youtube.com/watch?v=o_MKHqVsAlQ ~
http://microapp.westword.com/mayan2012/ ~
http://www.sacredroad.org/staticpages/index.php/20040312155339101 ~
http://www.jaguarwisdom.org/blog/ ~ http://www.mayacalendar.org/mayan-horoscope.php ~
http://www.mayanmajix.com/TZOLKIN/DT/DT.html ~
http://mayanmajix.com/faq_2011_lab.html ~ www.xzone.com.au/maya ~
http://maya.calendariosagrado.org/beginner/?lang=en ~ www.Calleman.com ~
www.maya-portal.net ~ http://cholqij.proboards.com/index.cgi?board=mayancalendar ~
www.mayancalendar2012.org ~ www.createspace.com/3373251 ~
http://www.sabiduriamaya.org/home/index.asp# ~ http://www.4-ahau.com/en/Home.html ~
http://www.oursacreduniverse.co.za/mayan.html ~
http://www.widgetbox.com/widget/daily-tzolkin ~
***********************************************