Tzolkin:
13 Kawoq
Long Count:
12.19.18.3.19
Kawoq is the day of advocates, defenders, judges. Day of the heat of the rod of authority, women's day that warms the heart of your home with motherly love. Is the energy that brings rain to give us good crops. Kawoq is synonymous with versatility, music, paint and imagination. Day of the power of nature and of the elements.
(http://mayancalendar2012.org/)
-----------------------------------------------------
The number 13
is the completion of life, of all movement and process. 13 has a special relationship with the development of paranormal abilities, for it is connected with the 13 major joints of the human body where the sacred
koyopa
energy (the Mayan equivalent of kundalini) accumulates. 13 also relates to refinement and sensitivity, enhanced perception and acute intuition. This ability to access other dimensions of reality applies to all actions performed on a 13 day as well as to those who are born upon a 13.
Cauac (Kawoq) The Universal Community:
The sign of the Divine Feminine, signifying wives, female healers, and especially midwives; thunder, lightning, cyclone; spiritual unrest and mental conflicts; spiritual contacts and communication; blood lightning/signs, signals and messages in the blood. This day is sometimes said to signify the celestial home of the gods. Upon this day, we pray that there may always be harmony in our home lives and among our friends. Like the previous day, it is auspicious for all matters regarding health and healing. It has a special connection with women and with feminine energy.
(http://www.jaguarwisdom.org/blog/)
-----------------------------------------------------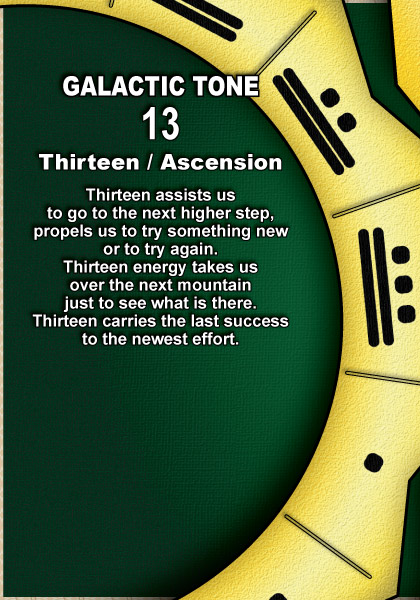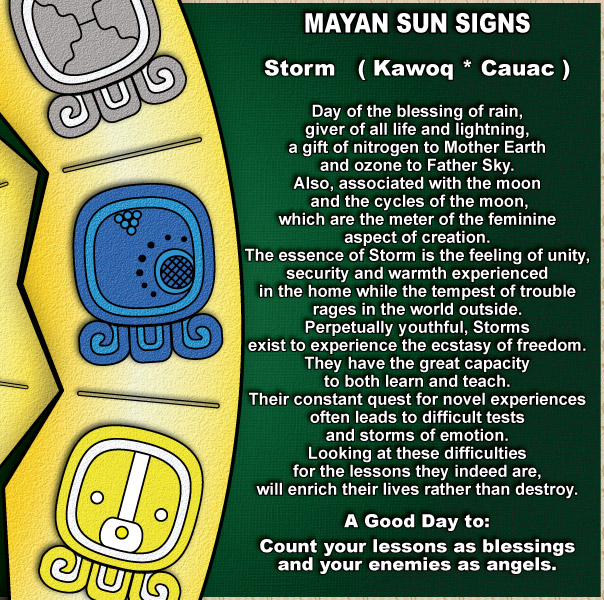 Tone: 13 - Ascension, Sun Sign: STORM (KAWOQ*CAUAC)

(1st Day of Universal cycle)
(http://www.mayanmajix.com/TZOLKIN/DT/DT.html)
-----------------------------------------------------
(http://www.maya-portal.net/tzolkin)
--------------------------------------------
(http://www.oursacreduniverse.co.za/mayan.html)
-----------------------------------------------------
(http://xzone.com.au/maya/personality.php?YEAR=2011&MONTH=3&DAY=21)
***********************************************
Webpages:
www.shiftoftheages.com ~ http://en.esoguru.com/Don_Alejandro ~
http://www.youtube.com/watch?v=o_MKHqVsAlQ ~
http://microapp.westword.com/mayan2012/ ~
http://www.sacredroad.org/staticpages/index.php/20040312155339101 ~
http://www.jaguarwisdom.org/blog/ ~ http://www.mayacalendar.org/mayan-horoscope.php ~
http://www.mayanmajix.com/TZOLKIN/DT/DT.html ~
http://mayanmajix.com/faq_2011_lab.html ~ www.xzone.com.au/maya ~
http://maya.calendariosagrado.org/beginner/?lang=en ~ www.Calleman.com ~
www.maya-portal.net ~ http://cholqij.proboards.com/index.cgi?board=mayancalendar ~
www.mayancalendar2012.org ~ www.createspace.com/3373251 ~
http://www.sabiduriamaya.org/home/index.asp# ~ http://www.4-ahau.com/en/Home.html ~
http://www.oursacreduniverse.co.za/mayan.html ~
http://www.widgetbox.com/widget/daily-tzolkin ~
***********************************************