Tzolkin:
9 Q'anil
Long Count:
12.19.18.4.8
Symbol of the regeneration of the land, the return of birth after death, as with the growth of the sacred corn. Q'anil represents vitality, fertility. It is a day associated with plants and all living things that have seeds. Q'anil is a day to give thanks to the Heart of Heaven, Heart of Earth, by nature, plants, for human beings and especially for the four colors of corn that are between us. Q'anil, a day of procreation and the pregnancy of woman. Energy in fertility to be human, plants and animals.
(http://mayancalendar2012.org/)
-----------------------------------------------------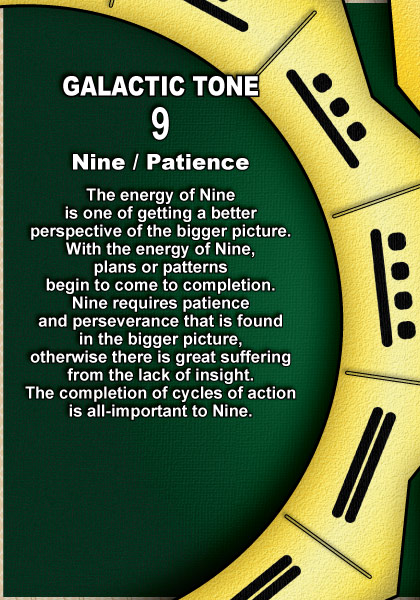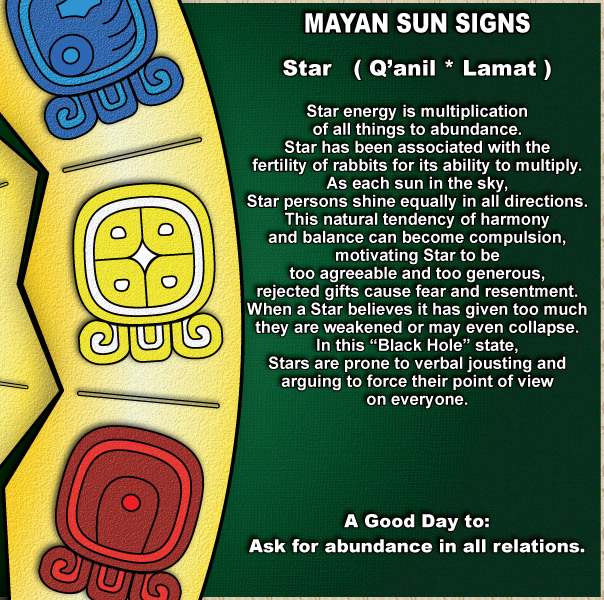 Tone: 9 - Patience, Sun Sign: STAR (Q'ANIL*LAMAT)

(1st Night of Universal cycle)
(http://www.mayanmajix.com/TZOLKIN/DT/DT.html)
-----------------------------------------------------
The number 9
is an extremely positive one, even though it is an odd number. It is often used for ritual purposes. Inscriptions surviving from Classic times (200 – 900 CE) indicate that 9 was the day most favored for the timing of coronations and other important ceremonies. 9 is often called "the number of life" because it represents the process of human gestation; there are nine months of human development prior to birth. Because of this, the number 9 is especially associated with women, particularly since the 260-day cycle is comprised of nine lunar months. Some Mayan teachers have pointed out that in their traditional culture there are nine steps in the construction of a house and nine stages to growing and harvesting crops. There are also 9 Lords of the Underworld, but this is not necessarily the astrological significance of 9, a number whose symbolism is overwhelmingly positive.
LAMAT (Q'ANIL) THE REGENERATION OF THE EARTH:
Signifies seed, corn, pride, harvest, and food. It is the
nawal
of all kinds of animal and vegetable seeds. It is the day of fertility and harvests, abundance, prosperity; auspicious for initiating any planting or business negotiation. This day signifies the four colors of corn – red, black, white and yellow. This is a wonderful day for farmers or simple planter box gardeners, for upon this day we ask that the world may be made to blossom and be made fertile. We may plant ideas and projects as well as flowers; any relationship or business venture which begins on a Lamat day will usually turn out favorably. It is traditionally associated with the planet Venus.
(http://www.jaguarwisdom.org/blog/)
-----------------------------------------------------
(http://xzone.com.au/maya/personality.php?YEAR=2011&MONTH=3&DAY=30)
-----------------------------------------------------
(http://www.maya-portal.net/tzolkin)
----------------------------------------------------
(http://www.oursacreduniverse.co.za/mayan.html)
***********************************************
Webpages:
www.shiftoftheages.com ~ http://en.esoguru.com/Don_Alejandro ~
http://www.youtube.com/watch?v=o_MKHqVsAlQ ~
http://microapp.westword.com/mayan2012/ ~
http://www.sacredroad.org/staticpages/index.php/20040312155339101 ~
http://www.jaguarwisdom.org/blog/ ~ http://www.mayacalendar.org/mayan-horoscope.php ~
http://www.mayanmajix.com/TZOLKIN/DT/DT.html ~
http://mayanmajix.com/faq_2011_lab.html ~ www.xzone.com.au/maya ~
http://maya.calendariosagrado.org/beginner/?lang=en ~ www.Calleman.com ~
www.maya-portal.net ~ http://cholqij.proboards.com/index.cgi?board=mayancalendar ~
www.mayancalendar2012.org ~ www.createspace.com/3373251 ~
http://www.sabiduriamaya.org/home/index.asp# ~ http://www.4-ahau.com/en/Home.html ~
http://www.oursacreduniverse.co.za/mayan.html ~
http://www.widgetbox.com/widget/daily-tzolkin ~
***********************************************