The Number 2
is a symbol of duality. Much like Taoists, the Maya think in terms of cosmic polarities. This is embodied in their mythology: there are two Hero Twins, two principal Lords of the Underworld, as well as the two monkey twins who represent the day-sign Chuen. There is the eternal dichotomy of this world and the Underworld, day and night, darkness and light. These themes run like a common thread in all of Mayan myth, especially in the sacred book the
Popol Vuh.

LAMAT (Q'ANIL) THE REGENERATION OF THE EARTH:
Signifies seed, corn, pride, harvest, and food. It is the
nawal
of all kinds of animal and vegetable seeds. It is the day of fertility and harvests, abundance, prosperity; auspicious for initiating any planting or business negotiation. This day signifies the four colors of corn – red, black, white and yellow. This is a wonderful day for farmers or simple planter box gardeners, for upon this day we ask that the world may be made to blossom and be made fertile. We may plant ideas and projects as well as flowers; any relationship or business venture which begins on a Lamat day will usually turn out favorably. It is traditionally associated with the planet Venus.
(http://www.jaguarwisdom.org/blog/)
-----------------------------------------------------
Tzolkin:
2 Q'anil
Long Count:
12.19.18.3.8
Symbol of the regeneration of the land, the return of birth after death, as with the growth of the sacred corn. Q'anil represents vitality, fertility. It is a day associated with plants and all living things that have seeds. Q'anil is a day to give thanks to the Heart of Heaven, Heart of Earth, by nature, plants, for human beings and especially for the four colors of corn that are between us. Q'anil, a day of procreation and the pregnancy of woman. Energy in fertility to be human, plants and animals.
(http://mayancalendar2012.org/)
-----------------------------------------------------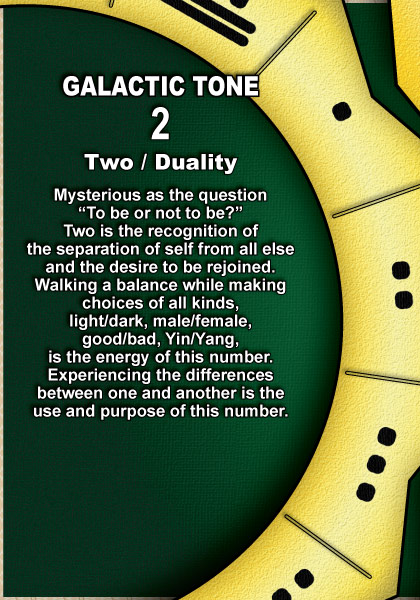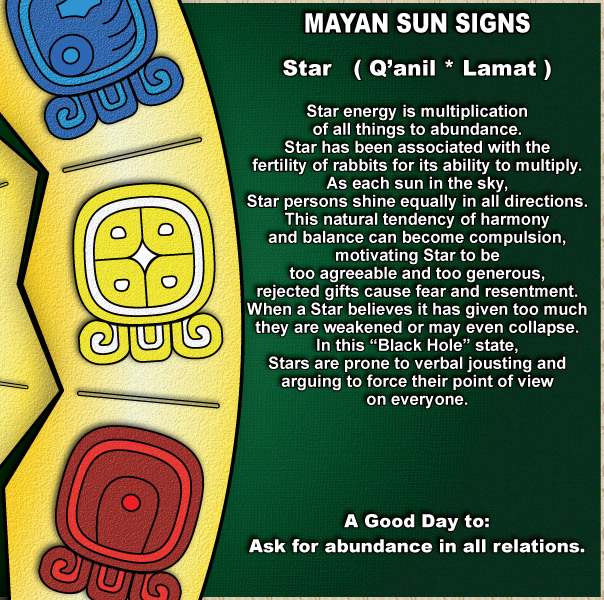 Tone: 2 - Duality, Sun Sign: STAR (Q'ANIL*LAMAT)

(1st Day of Universal cycle)
(http://www.mayanmajix.com/TZOLKIN/DT/DT.html)
-----------------------------------------------------
(http://www.maya-portal.net/tzolkin)
-----------------------------------------------------
Main Maya glyphs
Tzolk'in
2
Lamat
Ja'ab'
1
Kumk'u
Night Lord
G5
(http://maya.calendariosagrado.org/basic/?lang=en)
-----------------------------------------------------
(http://xzone.com.au/maya/personality.php?YEAR=2011&MONTH=3&DAY=10)
***********************************************
Webpages:
www.shiftoftheages.com ~ http://en.esoguru.com/Don_Alejandro ~
http://www.youtube.com/watch?v=o_MKHqVsAlQ ~
http://microapp.westword.com/mayan2012/ ~
http://www.sacredroad.org/staticpages/index.php/20040312155339101 ~
http://www.jaguarwisdom.org/blog/ ~ http://www.mayacalendar.org/mayan-horoscope.php ~
http://www.mayanmajix.com/TZOLKIN/DT/DT.html ~
http://mayanmajix.com/faq_2011_lab.html ~ www.xzone.com.au/maya ~
http://maya.calendariosagrado.org/beginner/?lang=en ~ www.Calleman.com ~
www.maya-portal.net ~ http://cholqij.proboards.com/index.cgi?board=mayancalendar ~
www.mayancalendar2012.org ~ www.createspace.com/3373251 ~
http://www.sabiduriamaya.org/home/index.asp# ~ http://www.4-ahau.com/en/Home.html ~
http://www.oursacreduniverse.co.za/mayan.html ~
http://www.widgetbox.com/widget/daily-tzolkin ~
***********************************************