The number 8
is highly auspicious. If 1 and 7 are the beginning and the end, then 1 + 7 = 8, making 8 a number of completion or wholeness, much like the number 4. This is why there is some sort of ritual for almost every 8 day, and why some extremely traditional communities have a special local shrine dedicated to the number 8. Of course, 4 + 4 = 8, so the wholeness implied in the number 4 is doubled here, as if the wholeness of the fourfold universe were seen from the viewpoint of both polarities: night and day, light and darkness, sun and moon, yin and yang. The number 8 has been said by Maya teachers to represent the weaving of life, the thread or cord of time. It is also sometimes said that the Mayan symbol for 8, a bar with three dots over it, has a symbolic meaning, with the three dots on top representing humanity and day, and the bar underneath representing Mother Earth.
IX (I'X) THE JAGUAR:
Signifies the jaguar, the spirit, force, energy, and vitality. It is the
nawal
of nature and Mayan altars. It is also the
nawal
of the seven human shames: pride, ambition, envy, lying, crime, ingratitude, and ignorance through laziness. Those who keep the Days always set aside a special place or household altar for prayer, meditation, incense, candles, and so on. This is the day to give thanks that we have created such a sacred place in our lives. It is a day which may fruitfully be devoted to introspection and meditation if the opportunity is there. It is also regarded as a favorable day upon which to practice any kind of divination. As regards the element of Water, Ix symbolizes the sacred energy inherent in fresh streams, in running water.
(http://www.jaguarwisdom.org/blog/)
-----------------------------------------------------
Tzolkin:
8 I'x
Long Count:
12.19.18.3.14
Symbol of the creative forces of the universe, the commemoration of the world. The day water seperated from the mountains, the plains and the places all humans and land animals on earth occupy. Represents the Maya Altar and is the day of the mountains, hills and plains.
(http://mayancalendar2012.org/)
-----------------------------------------------------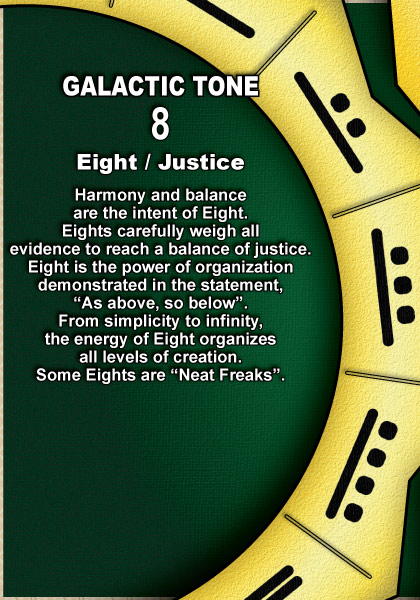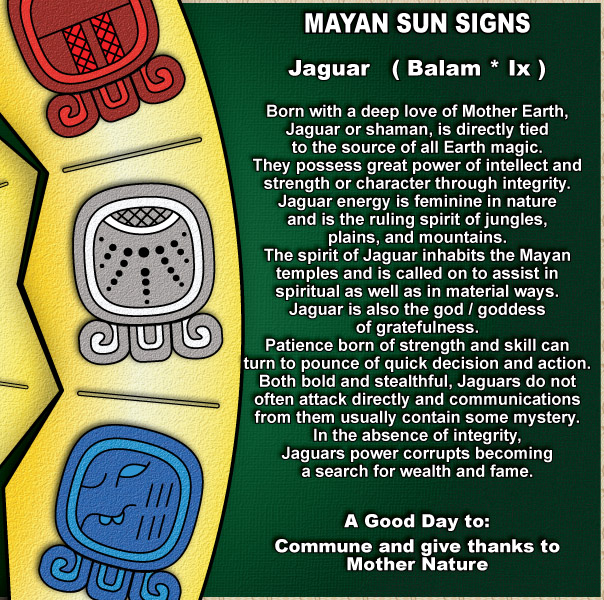 Tone: 8 - Justice, Sun Sign: JAGUAR (BALAM*IX)

(1st Day of Universal cycle)
(http://www.mayanmajix.com/TZOLKIN/DT/DT.html)
-----------------------------------------------------
(http://www.maya-portal.net/tzolkin)
-----------------------------------------------------
Main Maya glyphs
Tzolk'in
8
Ix
Ja'ab'
7
Kumk'u
Night Lord
G2
(http://maya.calendariosagrado.org/basic/?lang=en)
-----------------------------------------------------
(http://xzone.com.au/maya/personality.php?YEAR=2011&MONTH=3&DAY=16)
***********************************************
Webpages:
www.shiftoftheages.com ~ http://en.esoguru.com/Don_Alejandro ~
http://www.youtube.com/watch?v=o_MKHqVsAlQ ~
http://microapp.westword.com/mayan2012/ ~
http://www.sacredroad.org/staticpages/index.php/20040312155339101 ~
http://www.jaguarwisdom.org/blog/ ~ http://www.mayacalendar.org/mayan-horoscope.php ~
http://www.mayanmajix.com/TZOLKIN/DT/DT.html ~
http://mayanmajix.com/faq_2011_lab.html ~ www.xzone.com.au/maya ~
http://maya.calendariosagrado.org/beginner/?lang=en ~ www.Calleman.com ~
www.maya-portal.net ~ http://cholqij.proboards.com/index.cgi?board=mayancalendar ~
www.mayancalendar2012.org ~ www.createspace.com/3373251 ~
http://www.sabiduriamaya.org/home/index.asp# ~
http://www.4-ahau.com/en/Home.html ~ http://www.oursacreduniverse.co.za/mayan.html ~
http://www.widgetbox.com/widget/daily-tzolkin ~
***********************************************