Tzolkin:
9 Tz'ikin
Long Count:
12.19.18.3.15
Tz'ikin symbolizes the day when the birds showed the place where the sacred Corn was found. This is the day of the bird of good luck. Date of communication with the heart of Heaven and the Heart of Earth, through the invocation of space, air, light, clouds, cold, and the heat force that gives us life. Representation of all that exists in space. Day devoted to Heart of Heaven, Heart of the Earth. Symbol of good luck and material stability of the individual conscience and intelligence.
(http://mayancalendar2012.org/)
-----------------------------------------------------
The number 9
is an extremely positive one, even though it is an odd number. It is often used for ritual purposes. Inscriptions surviving from Classic times (200 – 900 CE) indicate that 9 was the day most favored for the timing of coronations and other important ceremonies. 9 is often called "the number of life" because it represents the process of human gestation; there are nine months of human development prior to birth. Because of this, the number 9 is especially associated with women, particularly since the 260-day cycle is comprised of nine lunar months. Some Mayan teachers have pointed out that in their traditional culture there are nine steps in the construction of a house and nine stages to growing and harvesting crops. There are also 9 Lords of the Underworld, but this is not necessarily the astrological significance of 9, a number whose symbolism is overwhelmingly positive.
MEN (TZ'IKIN) THE VISION OF THE BIRD:
Signifies a bird, wealth, and all business negotiations. It is the
nawal
of economic well-being, good fortune. It is an auspicious day to give thanks and ask for financial well-being. It is the communication and mediation between Uk'ux Kaj and Uk'ux Ulew (Heart of Sky, Heart of Earth). Unlike those of some spiritual traditions, the Maya do not feel that material prosperity is undesirable or "non-spiritual." Upon this day, we may thank the universe for whatever prosperity we currently enjoy while honestly expressing the intention that more prosperity may attend our lives. This day is as fortunate for love as it is for money; pay attention to relationship issues. Pay attention to dreams as well, for this is a day upon which one may experience powerful and important revelations through dreams.
(http://www.jaguarwisdom.org/blog/)
-----------------------------------------------------
(http://www.maya-portal.net/tzolkin)
-----------------------------------------------------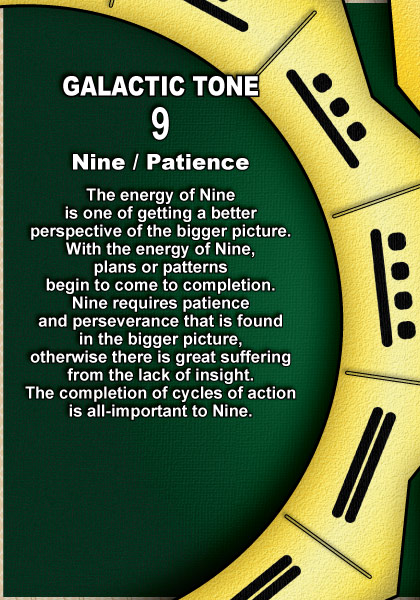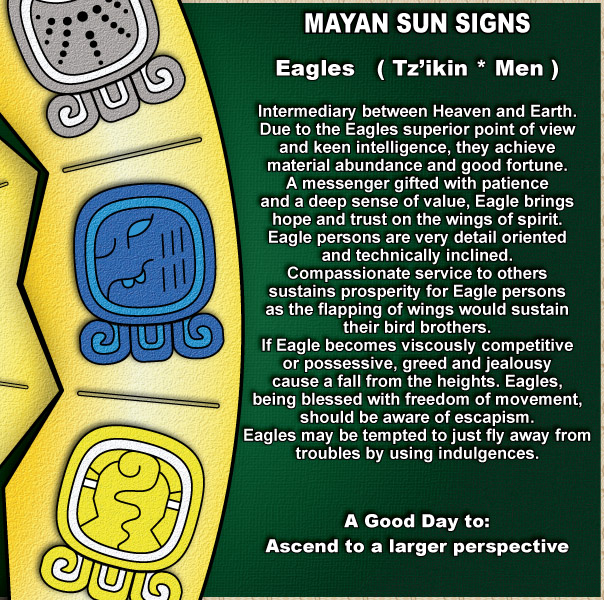 Tone: 9 - Patience, Sun Sign: EAGLE (TZ'IKIN*MEN)

(1st Day of Universal cycle)
(http://www.mayanmajix.com/TZOLKIN/DT/DT.html)
-----------------------------------------------------
(http://xzone.com.au/maya/personality.php?YEAR=2011&MONTH=3&DAY=17)
***********************************************
Webpages:
www.shiftoftheages.com ~ http://en.esoguru.com/Don_Alejandro ~
http://www.youtube.com/watch?v=o_MKHqVsAlQ ~
http://microapp.westword.com/mayan2012/ ~
http://www.sacredroad.org/staticpages/index.php/20040312155339101 ~
http://www.jaguarwisdom.org/blog/ ~ http://www.mayacalendar.org/mayan-horoscope.php ~
http://www.mayanmajix.com/TZOLKIN/DT/DT.html ~
http://mayanmajix.com/faq_2011_lab.html ~ www.xzone.com.au/maya ~
http://maya.calendariosagrado.org/beginner/?lang=en ~ www.Calleman.com ~
www.maya-portal.net ~ http://cholqij.proboards.com/index.cgi?board=mayancalendar ~
www.mayancalendar2012.org ~ www.createspace.com/3373251 ~
http://www.sabiduriamaya.org/home/index.asp# ~ http://www.4-ahau.com/en/Home.html ~
http://www.oursacreduniverse.co.za/mayan.html ~
http://www.widgetbox.com/widget/daily-tzolkin ~
***********************************************