Tzolkin:
4 T'zi'
Long Count:
12.19.18.3.10
Ts'i is law, authority, justice, loyalty and order. It is the protector of material law and the spiritual. T'zi represents order and accuracy. It is the interpretation of the known and the unknown. T'zi symbolizes the sign of law and authority, both terrestrial and cosmic justice and is the day that brings to light truth.
(http://mayancalendar2012.org/)
-----------------------------------------------------
The Number 4
symbolizes wholeness. It is associated with Ahau, the Sun God as cosmic lord (the word
ahau
literally means lord). Why is this a solar number? The word for "day" (
k'in
in Yucatec or
q'ij
in K'iche') is the same as the word for "sun"; a day is a complete passage of the sun. The sun or the day has four stations: dawn, noon, sunset and midnight. These four components of each day, each "sun," can be conceptually expanded to include the solstices and equinoxes; thus the year is also a 4. There is evidence that the Classic Maya divided the universe into four sections marked by the two intersections of the Milky Way with the ecliptic. Thus we live in a fourfold universe. The Maya still lay out their ritual altars in a fourfold pattern. The number 4 represents the four elements: Air, Fire, Earth and Water; these compose nature and give us life. Four is also the Four Directions and the Four Pillars which hold up the Earth.
OC (TZ'I) LAW AND SPIIRITUAL AUTHORITY:
Signifies the dog, the police, vengeance, a magistrate; accuracy and precision; justice, legality. This day is also a
nawal
of sexuality. On this day we pray that justice may be done to all people. It is a good day to address any legal issues of our own, as well as correcting the difficulties which may have arisen in our lives due to an excess of the passions.
(http://www.jaguarwisdom.org/blog/)
-----------------------------------------------------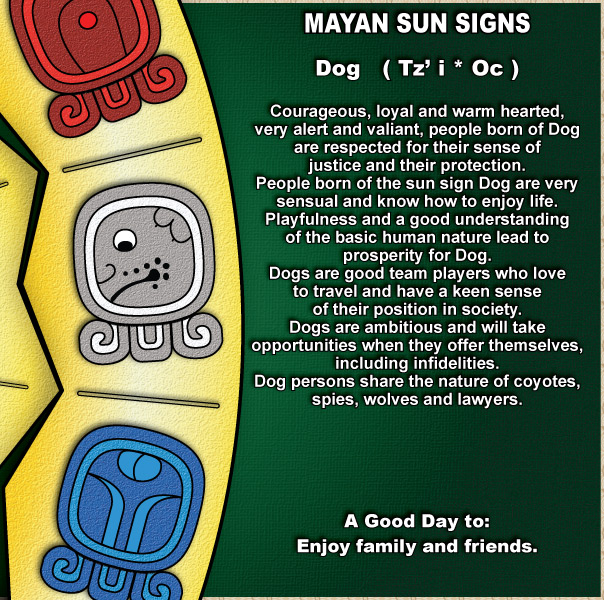 Tone: 4 - Stability, Sun Sign: DOG (TZ'I*OC)

(1st Day of Universal cycle)
(http://www.mayanmajix.com/TZOLKIN/DT/DT.html)
-----------------------------------------------------
Main Maya glyphs
Tzolk'in
4
Ok
Ja'ab'
3
Kumk'u
Night Lord
G7
(http://maya.calendariosagrado.org/basic/?lang=en)
-----------------------------------------------------
(http://xzone.com.au/maya/personality.php?YEAR=2011&MONTH=3&DAY=12)
-----------------------------------------------------
(http://www.maya-portal.net/tzolkin)
-----------------------------------------------------
(http://www.oursacreduniverse.co.za/uni.html)
***********************************************
Webpages:
www.shiftoftheages.com ~ http://en.esoguru.com/Don_Alejandro ~
http://www.youtube.com/watch?v=o_MKHqVsAlQ ~
http://microapp.westword.com/mayan2012/ ~
http://www.sacredroad.org/staticpages/index.php/20040312155339101 ~
http://www.jaguarwisdom.org/blog/ ~ http://www.mayacalendar.org/mayan-horoscope.php ~
http://www.mayanmajix.com/TZOLKIN/DT/DT.html ~
http://mayanmajix.com/faq_2011_lab.html ~ www.xzone.com.au/maya ~
http://maya.calendariosagrado.org/beginner/?lang=en ~ www.Calleman.com ~
www.maya-portal.net ~ http://cholqij.proboards.com/index.cgi?board=mayancalendar ~
www.mayancalendar2012.org ~ www.createspace.com/3373251 ~
http://www.sabiduriamaya.org/home/index.asp# ~ http://www.4-ahau.com/en/Home.html ~
http://www.oursacreduniverse.co.za/mayan.html ~
http://www.widgetbox.com/widget/daily-tzolkin ~
***********************************************