Tzolk'in
13
B'en
Ja'ab'
6
K'ayab'
Night Lord
G8
(http://maya.calendariosagrado.org/basic/?lang=en)
-----------------------------------------------------
(http://xzone.com.au/maya/personality.php?YEAR=2011&MONTH=2&DAY=23)
-----------------------------------------------------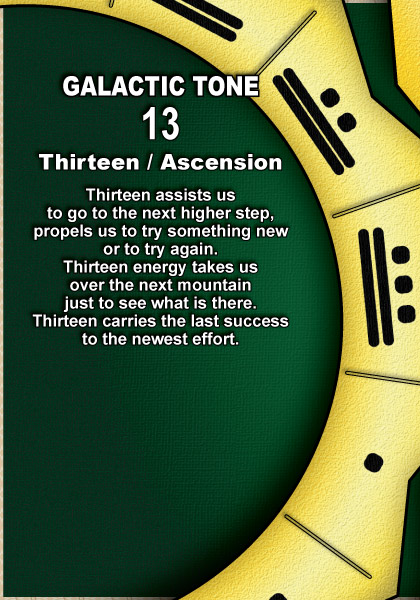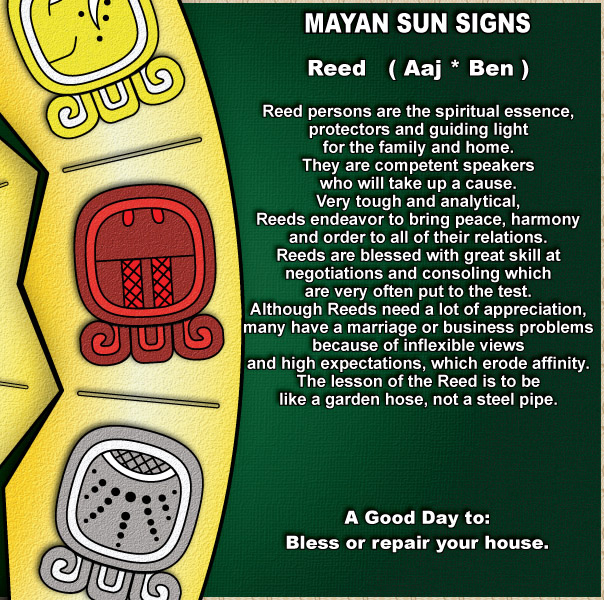 Tone: 13 - Ascension, Sun Sign: REED (AAJ*BEN)

(7th Day of Galactic cycle)
(http://www.mayanmajix.com/TZOLKIN/DT/DT.html)
-----------------------------------------------------
(http://www.maya-portal.net/tzolkin)
-----------------------------------------------------
BEN (AJ) THE RESURRECTION OF THE CORN:
Home, family, a stalk of sugar cane or corn; vocation, sprout, offspring, a cane or walking stick; seed, staff of authority, power and the growth of crops; stability, solidity, strength, resoluteness of character; tenderness. This is the
nawal
of the home and of children. This is the day to give thanks for the home in which we live, for this day is connected with the nourishment and flourishing of all things related to the home, whether human, animal or plant.
The number 13
is the completion of life, of all movement and process. 13 has a special relationship with the development of paranormal abilities, for it is connected with the 13 major joints of the human body where the sacred
koyopa
energy (the Mayan equivalent of kundalini) accumulates. 13 also relates to refinement and sensitivity, enhanced perception and acute intuition. This ability to access other dimensions of reality applies to all actions performed on a 13 day as well as to those who are born upon a 13.
(http://www.jaguarwisdom.org/blog/)
-----------------------------------------------------
Tzolkin:
13 Aj
Long Count:
12.19.18.2.13
Aj symbolizes everything related to home and family. Aj is a symbol of the resurrection and is a day of renewal, purification, the resurgence of the firmness, representing the origin, professions or trades, the constanance of existence and its development to achieve the fullness of life.

It was given the name of Aj as this day is symbolic of the need felt by our ancestors for the first food and its delivery, the day of the sacred corn and domestic animals.
(http://mayancalendar2012.org/)
***********************************************
Webpages:
www.shiftoftheages.com ~ http://en.esoguru.com/Don_Alejandro ~
http://www.youtube.com/watch?v=o_MKHqVsAlQ ~
http://microapp.westword.com/mayan2012/ ~
http://www.sacredroad.org/staticpages/index.php/20040312155339101 ~
http://www.jaguarwisdom.org/blog/ ~ http://www.mayacalendar.org/mayan-horoscope.php ~
http://www.mayanmajix.com/TZOLKIN/DT/DT.html ~
http://mayanmajix.com/faq_2011_lab.html ~ www.xzone.com.au/maya ~
http://maya.calendariosagrado.org/beginner/?lang=en ~ www.Calleman.com ~
www.maya-portal.net ~ http://cholqij.proboards.com/index.cgi?board=mayancalendar ~
www.mayancalendar2012.org ~ www.createspace.com/3373251 ~
http://www.sabiduriamaya.org/home/index.asp# ~ http://www.4-ahau.com/en/Home.html ~
http://www.oursacreduniverse.co.za/mayan.html ~
http://www.widgetbox.com/widget/daily-tzolkin ~
***********************************************