-----------------------------------------------------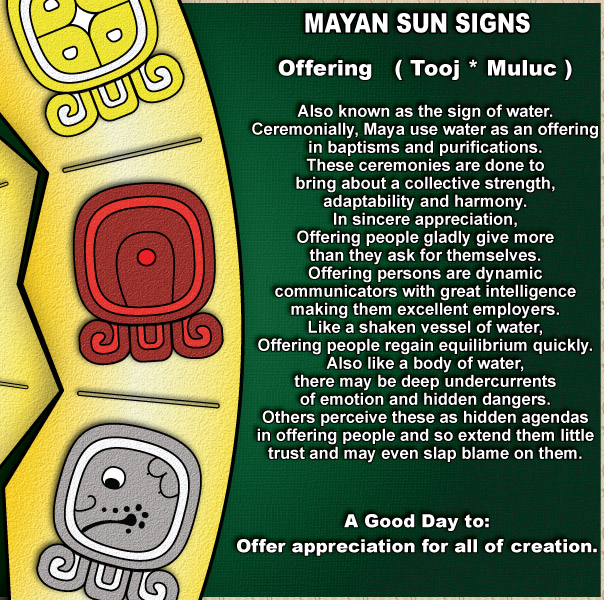 Tone: 4 - Stability, Sun Sign: OFFERING (TOOJ*MULUC)

(2nd Day of Universal cycle)
(http://www.mayanmajix.com/TZOLKIN/DT/DT.html)
-----------------------------------------------------
Tzolkin:
4 Toj
Long Count:
12.19.18.5.9
Toj symbolizes the suffering that is caused by sin. This day is indicated for offering the Creator invocations for everything that surrounds us. Toj is the honoring and balancing of justice, love, communication and reunion. It is a warm sign and therefore sensitive and magnetic.
(http://mayancalendar2012.org/)
-----------------------------------------------------
The Number 4
symbolizes wholeness. It is associated with Ahau, the Sun God as cosmic lord (the word
ahau
literally means lord). Why is this a solar number? The word for "day" (
k'in
in Yucatec or
q'ij
in K'iche') is the same as the word for "sun"; a day is a complete passage of the sun. The sun or the day has four stations: dawn, noon, sunset and midnight. These four components of each day, each "sun," can be conceptually expanded to include the solstices and equinoxes; thus the year is also a 4. There is evidence that the Classic Maya divided the universe into four sections marked by the two intersections of the Milky Way with the ecliptic. Thus we live in a fourfold universe. The Maya still lay out their ritual altars in a fourfold pattern. The number 4 represents the four elements: Air, Fire, Earth and Water; these compose nature and give us life. Four is also the Four Directions and the Four Pillars which hold up the Earth.
MULUC (TOJ) OFFERING:
Signifies offering, liberty, equilibrium, payment, a fine or a debt. This day is related to two elements, being the
nawal
of Water in its manifestation of rain, also of the Sacred Fire as in the Mayan Fire Ceremony. Upon this day we humbly acknowledge our karmic debts and assert our intention to "pay it all back" by placing our lives in harmony. Make atonement for all disequilibrium and be thankful for all that is in balance.
(http://www.jaguarwisdom.org/blog/)
-----------------------------------------------------
(http://www.maya-portal.net/tzolkin)
------------------------------------------------------
(http://www.oursacreduniverse.co.za/mayan.html)
-----------------------------------------------------
(http://xzone.com.au/maya/personality.php?YEAR=2011&MONTH=4&DAY=20)
***********************************************
Webpages:
www.shiftoftheages.com ~ http://en.esoguru.com/Don_Alejandro ~
http://www.youtube.com/watch?v=o_MKHqVsAlQ ~
http://microapp.westword.com/mayan2012/ ~
http://www.sacredroad.org/staticpages/index.php/20040312155339101 ~
http://www.jaguarwisdom.org/blog/ ~
http://www.mayacalendar.org/mayan-horoscope.php ~
http://www.mayanmajix.com/TZOLKIN/DT/DT.html ~
http://mayanmajix.com/faq_2011_lab.html ~ www.xzone.com.au/maya ~
http://maya.calendariosagrado.org/beginner/?lang=en ~
www.Calleman.com ~ www.maya-portal.net ~
http://cholqij.proboards.com/index.cgi?board=mayancalendar ~
www.mayancalendar2012.org ~ www.createspace.com/3373251 ~
http://www.sabiduriamaya.org/home/index.asp# ~
http://www.4-ahau.com/en/Home.html ~
http://www.oursacreduniverse.co.za/mayan.html ~
http://www.widgetbox.com/widget/daily-tzolkin ~
***********************************************