-----------------------------------------------------
Tzolkin:
9 Imox
Long Count:
12.19.18.5.1
Symbol of the unseen forces in the universe, manifested in dementia. Day when the forces of nature are like dangerous storms, simultaneously a day which proposes order and balance with disorder.

Imox is the name of all things hidden or secret. It also represents the left side, left arm whose mission is to help the right arm to perform an effective cooperation with the Heart of Heaven, Heart of the Earth in the unfolding of the world and humanity.
(http://mayancalendar2012.org/)
-----------------------------------------------------
The number 9
is an extremely positive one, even though it is an odd number. It is often used for ritual purposes. Inscriptions surviving from Classic times (200 – 900 CE) indicate that 9 was the day most favored for the timing of coronations and other important ceremonies. 9 is often called "the number of life" because it represents the process of human gestation; there are nine months of human development prior to birth. Because of this, the number 9 is especially associated with women, particularly since the 260-day cycle is comprised of nine lunar months. Some Mayan teachers have pointed out that in their traditional culture there are nine steps in the construction of a house and nine stages to growing and harvesting crops. There are also 9 Lords of the Underworld, but this is not necessarily the astrological significance of 9, a number whose symbolism is overwhelmingly positive.
Imix (Imox) The Left Hand:
Signifies the left side of reality, hence receptivity, receiving messages from other dimensions, and the ability to see into other worlds; but also madness, disorder, nervousness, uncertainty and doubt. It is a sign of cooperation, for the left arm must cooperate and work well with the right. It is the
nawal
of the ocean, a day for healing illnesses of the mind, for giving thanks and asking for rain. The world is filled with psychological perils and stresses. Upon this day we pray for good mental health, both for ourselves and for all those around us. We pray that our dreams and visions may bring us beauty and wisdom rather than delusion and craziness. Since this day has a strong connection with water, to be close to a flowing river or stream or the ocean is beneficial upon this day.
(http://www.jaguarwisdom.org/blog/)
-----------------------------------------------------
(http://xzone.com.au/maya/personality.php?YEAR=2011&MONTH=4&DAY=12)
-----------------------------------------------------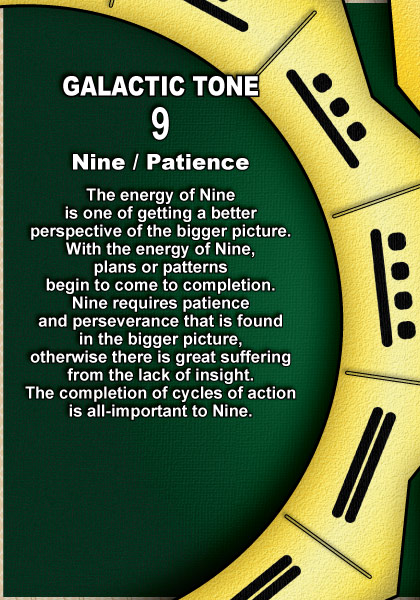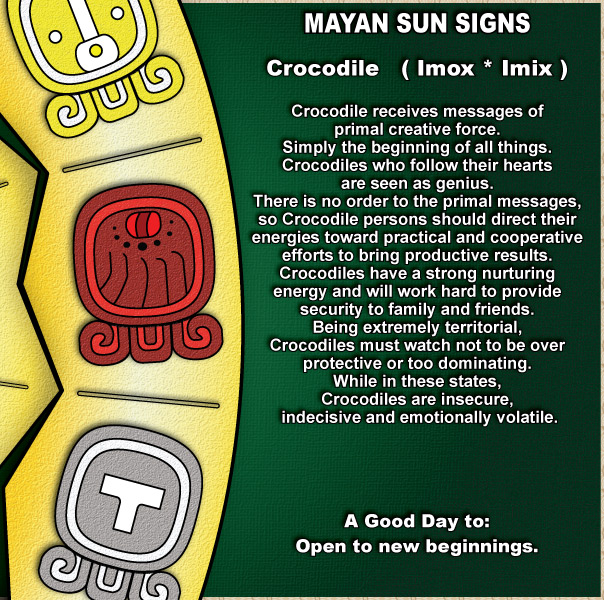 Tone: 9 - Patience, Sun Sign: Crocodile (IMOX*IMIX)

(1st Night of Universal cycle)
(http://www.mayanmajix.com/TZOLKIN/DT/DT.html)
-----------------------------------------------------
(http://www.maya-portal.net/tzolkin)
----------------------------------------------------
(http://www.oursacreduniverse.co.za/mayan.html)
***********************************************
Webpages:
www.shiftoftheages.com ~ http://en.esoguru.com/Don_Alejandro ~
http://www.youtube.com/watch?v=o_MKHqVsAlQ ~
http://microapp.westword.com/mayan2012/ ~
http://www.sacredroad.org/staticpages/index.php/20040312155339101 ~
http://www.jaguarwisdom.org/blog/ ~ http://www.mayacalendar.org/mayan-horoscope.php ~
http://www.mayanmajix.com/TZOLKIN/DT/DT.html ~
http://mayanmajix.com/faq_2011_lab.html ~ www.xzone.com.au/maya ~
http://maya.calendariosagrado.org/beginner/?lang=en ~ www.Calleman.com ~
www.maya-portal.net ~ http://cholqij.proboards.com/index.cgi?board=mayancalendar ~
www.mayancalendar2012.org ~ www.createspace.com/3373251 ~
http://www.sabiduriamaya.org/home/index.asp# ~ http://www.4-ahau.com/en/Home.html ~
http://www.oursacreduniverse.co.za/mayan.html ~
http://www.widgetbox.com/widget/daily-tzolkin ~
***********************************************